Sustainable Design
'Performative Typology' 
……………………………………….
SUTD-MIT INTERNATIONAL DESIGN CENTRE (IDC) 
Grand Challenge: Sustainable Built Environment
Research Team 
Principal Investigators:
Oliver Heckmann
J. Alstan Jakubiec 
Collaborator: Max Doelling, Buro Happold Engineering 
Research Assistants: Vedashree Jathar
Ramkumar Thambiraj
Design-research based projects aim to find answers to the emerging challenges to human dwelling in the urban domain. They focus on socially and environmentally sustainable housing designs in urban contexts, and propose strategies for systemic adaptability to changing and diversifying societies and a social aesthetic of vertical communities, for climate-responsive layouts and material-efficient construction to minimize its impact on environment. Two projects combine this design research with the development of computational tools to evaluate the performance of designs. 
'Performative Typology -A Typology of Climate Responsive Passive Design Strategies for Tropical High-Density Housing'
The aim was to establish evidence-based typological and procedural knowledge on climate responsive, low-energy passive building configurations and floor plan layouts for tropical high-density housing – through understanding the potential impacts of spatial configuration rather than relying on energy-consuming or façade-centric technologies. 
Tools have been developed to calculate combined results from any EnergyPlus format simulation file. New computational workflows for the simulation and display of thermal comfort, daylighting and natural ventilation were implemented to automatically allow intuitive display of the results in the modelling environment, giving quick feedback for environmentally-performative architectural design. 
Case studies have been conducted on vernacular, modernist and contemporary precedents applying climate-responsive passive design concepts. The spatial constellations were adapted to floor plan layouts in high-rise housing types to be applicable to high-density tropical urban contexts.  Three-dimensional models were used for the evaluation of their climatic responsiveness, using the developed simulation tool.  
The project combines lessons to be learned from precedents such as climate-responsive vernacular architecture with evidence-based computational tools. Imagining architectural design processes that engage deeper understanding of the environment and passive design methods will contribute to energy efficient residential architecture, helping tropical cities such as Singapore to be leader in green building design.
We also believe that buildings emerging with this knowledge and expertise will not only enable tenants to live in an environmentally conscious manner, by contributing to lowering global carbon emissions. It will also give them means of control to live in closer connection with their natural climatic habitat, enabled by low-energy but high-comfort designs.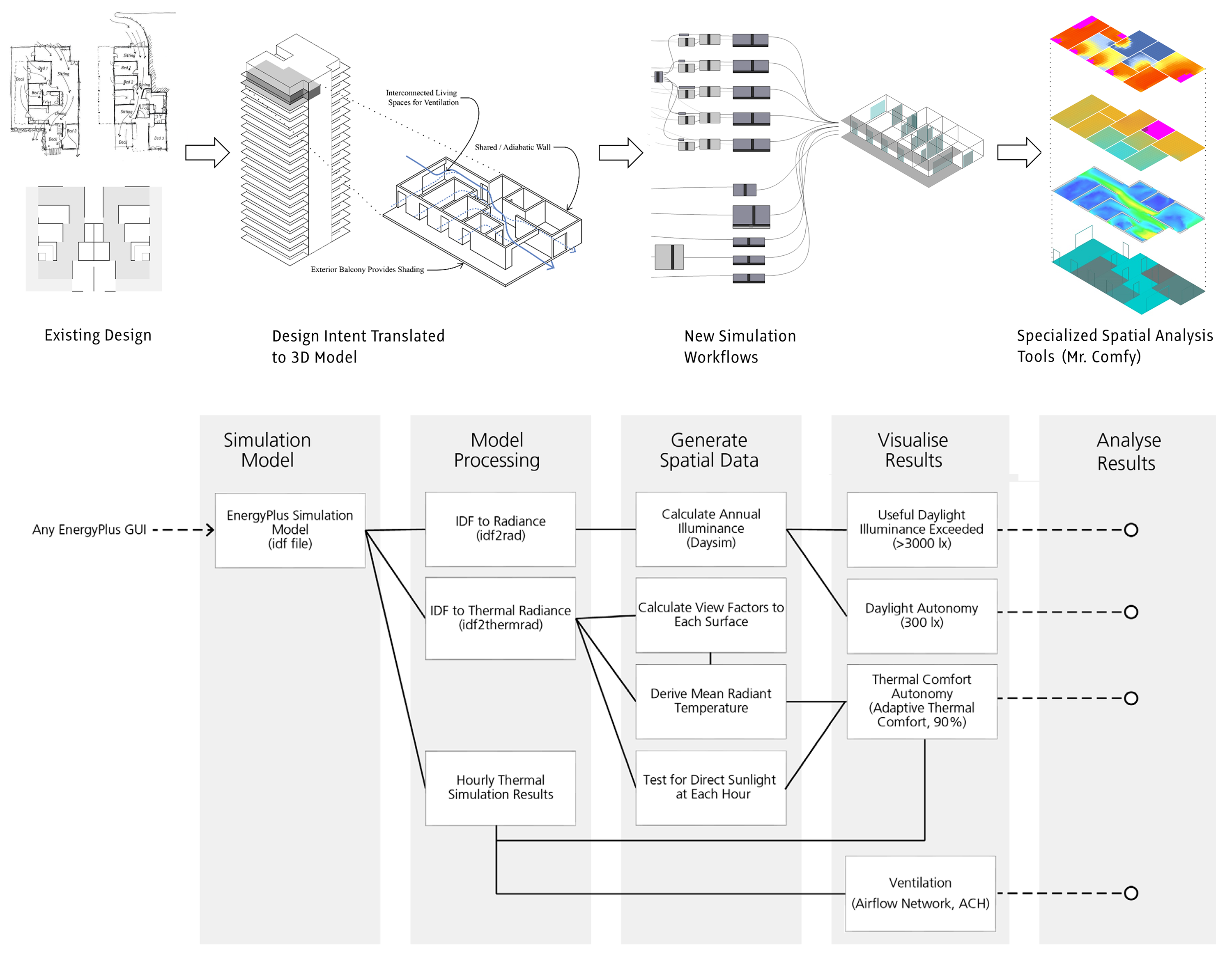 Workflow diagram and Flow chart of the methods to translate EnergyPIus input into spatialized output
Diagram of steps involved in spatializing radiant temperature results for ICA calculation across a sensor grid in a generic model