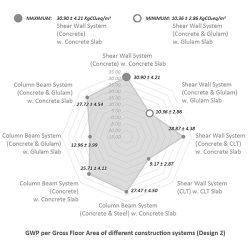 Design-based and Data-driven Life cycle Assessment
……………………………………….
SUTD-MIT INTERNATIONAL DESIGN CENTRE (IDC) 
Grand Challenge: Sustainable Built Environment
Research Team 
Principal Investigators:
Michael Budig
Oliver Heckmann
Research Assistants:
Ray CHERN Xi Cheng, Markus Matthias HUDERT, Amanda NG Qi Boon, LOO Jun Wen, Clement LORK, Zack XUEREB CONTI
Collaborators: 
Lynette Cheah, ESD/SUTD 
Colin Yip, Arup Singapore
Mentor:
Richard De Neufville
IDSS/MIT
Design-based and Data-driven Life-Cycle-Assessment
Two Life-Cycle-Assessment (LCA) tools have been developed to support decision-making processes regarding Global Warming Potential (GWP) of design iterations at early design stages: 
Based on John Habraken's 'Open Building' paradigm, a  design-based method segmentizes floor plan layouts into permanent support- and adaptable infill systems to enable systematic comparisons. This is achieved with a simplified translation of floor plans as conglomeration of repeated spatial entities such as wet cell blocks or room clusters, into series of  'shoe-boxes' in order to make the impact of different design decisions intelligible. A series of dynamically alterable 'shoebox' modules are linked to simplified parametric building models. Variable load-bearing systems and respective material ratios can thus be assigned, generating comparative GWP impact visualizations. The shoe-boxes' enclosures are defined by parametric 2D surfaces that visualise the ratio of support systems to infill components.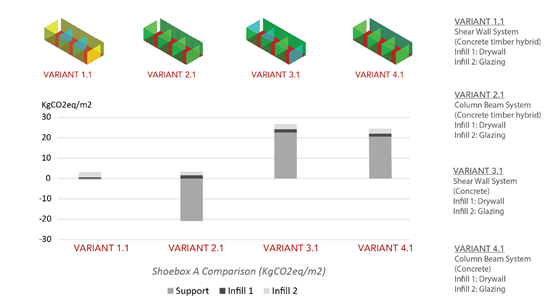 A second evaluation method can be used even prior to designs building layouts: Our research has developed a novel data-driven LCA tool based on a Bayesian Neural Network (BNN) regression. The BNN is built from data drawn from existing floor plans of residential buildings, and predicts material volume and embodied carbon from generic design parameters typical in the early design stage. Users will be able to interact with the tool in a Grasshopper environment or an online resource, input generic design parameters such as dimensions, ratios of served, serving and circulation spaces, and obtain comparative visualizations based on the choice of a construction system and its environmental sustainability. 
Publications:  
Oliver Heckmann, Michael Budig, Markus Hudert, Amanda Ng, Zack Xuereb Conti 
'Computational Screening-LCA Tools for Early Design Stages' 
International Journal of Architectural Computing, 2020
……………………………………………….
Michael Budig, Oliver Heckmann, Amanda Qi Boon Ng, Markus Hudert, Clement Lork, Lynette Cheah 
Next Generation Residential High-Rise: Data-driven evaluation of early design decisions with simplified LCA  
RE: Anthropocene, Design in the Age of Humans, 2020 – 25th International Conference of the Association for Computer-Aided Architectural Design Research in Asia