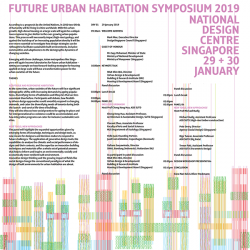 'Future Urban Habitation' Symposium 2019 / Book publication (upcoming)
……………………………………….
Supported by: Design Singapore Council, Far East Organization, Rice-Fields, XTRA Design 
In conjunction with: Housing of the Future Venture Day, curated by Martha Thorne, IE School Madrid 
The themes will also be covered by a book on 'Future Urban Habitation' published by Wiley.
……………………………………….
SRG Research Grant
Research Team Urban Housing Lab
Principal Investigator: Oliver Heckmann
Research Assistants: Aarthi Janakiraman, M.Arch, Pratt Institute School of Architecture / Chong Zhuo Wen, M.Arch ASD/SUTD
Student team: Audrey Chin Mian Yee, Koh Xian Zhe, Chloe Tan, Tan Yen Lin and Zhang Ke Er
'Future Urban Habitation' Symposium 2019 / Book publication


National Design Centre Singapore, 29 – 30 January 2019 
The 'Future Urban Habitation' symposium debated ways how collaborative, cross-disciplinary and -scalar design, policy  and research can jointly engage with the key challenges for urban housing of the future.  With ongoing urban growth particularly in Asian cities, high-dense urban habitation developed on a large scale will again be a ubiquitous response to give shelter to the ever-growing urban populations. This process will necessarily impact housing typologies and concepts of community, and against the backdrop of increasing population density and changing societies it will be ever more essential to investigate how cross-disciplinary design strategies for urban habitation can be rethought. Designers from various fields, researchers from design- and social science contexts, representatives of public housing boards and practitioners in the social- and healthcare domain jointly discussed these in the panels 'High-Dense Typologies for Building Community', 'Inclusive Urbanism',  'Adaptable & Responsive Habitation' and 'New Tools, New Approaches' 

Curators: Oliver Heckmann, SIEW Man Kok, Director, MKPL Architects, Singapore 
Four intersecting thematic frameworks have been discussed:
'HIGH-DENSE TYPOLOGIES FOR BUILDING COMMUNITY' have been illustrated by Siew Man KOK (MKPL Architects), CHO Im-Sik (Urbanism Research Cluster, NUS DOA), Colin NEUFELD (5468796 Architects) and Jeremiah LIM (Design Policy, Housing & Development Board). A new social aesthetic of vertical communality is to be imagined, that aims to support liveable urban neighbourhoods and to foster social cohesion and sense of belonging under the condition of high-dense habitation.
Discussing strategies for 'INCLUSIVE URBANISM', CHONG Keng Hua (Social Urban Research Group, ASD SUTD), Vincent CHUA (Department of Sociology, NUS), Helle JUUL (Juul|Frost Arkitekter) and Daliana SURYAWINATA (SHAU Architects) opened-up forward-looking perspectives how future urban territories could be conceptualized to cater and empower an affordable, inclusive and sustainable collective living.
Illustrating concepts for 'ADAPTABLE & RESPONSIVE HABITATION', Oliver HECKMANN (Urban Housing Lab', ASD SUTD), LIM Yee Wei (Yong Loo Lin School of Medicine NUS), CHIBA Manabu (Chiba Manabu Architects), Marceline CHIN (Pumpkin Lab, National Council Social Services, Singapore) and Bernd VLAY (Studio VlayStreeruwitz) described how buildings, the built environment and also their operation can react to significant societal and demographic shifts and diversifying forms of habitation. Integrative social practices for support, ageing-in place and inter-generational collaboration have been discussed.
'NEW TOOLS, NEW APPROACHES' have been debated by WAN Khin Wai (HDB), Michael BUDIG (Renewable Architecture Lab), Bige TUNCER (Informed Design Lab) and Trevor PATT, (all ASD SUTD), and Pete OVERY (Agency). Emerging forms of knowledge enquiry, techniques and design tools give designers and decision-makers innovative means to respond to future challenges. Advanced approaches to design thinking and the growing impact of fields like social design open further perspectives.