'Future Generic', Sustainable Design Option Studio 2

Studio Lead:
Oliver Heckmann
Urban Housing Lab
Participants:
Chen Jingwen, Cheong Chi Yan, Cheong Yi Lei, Daniel Yong Kaijie, Ho Yu De Samuel, Jonathan Ng Ming-En, Kerine Kua Xuan Lin, Kok Shi Yun, Lee Huimin Denise, Lee Xin Ting, Low Jun Yuan Jon, Nurul Asyiqin Binte Mohd, Pheeraphat Ratchakitprakarn, Seah Wen Zhen, Tan Wan Ting, Xie Yu, Zayar Lin
Guest critics:
Boon Hian Jeremiah LIM, Dy Director (Design Policy) Development & Procurement Group, Housing & Development Board, SIEW Man Kok, Director MKPL Architects 
Sustainable Design Option Studio 2 'Future Generic' 
'Public mass housing somehow always lived with the stigma that the "necessary" has to be done and is the priority, that the essential criteria of affordability and efficiency might have to necessarily limit our creativity, that there are endless limitations that one should not question. But can't we – rather than to avoid, to ignore or to reject the generic – embrace the everyday architecture, redefine it and contribute to it? Can we be creatively compliant with the rules, establish a creative understanding of what are the requirements – but also help to expand the criteria of which qualities a forward-looking generic architecture should cover? And imagine a new generic that is exceptional and inspiring in itself, but that has the potential to be replicated?
It is essential to develop forward looking models to affordable urban mass housing  – China alone will urbanize 300 million more people until 2030. Also, there is a significant need for innovative building types, that can respond to changing societies with shifting demographics. With buildings emerging to be larger, higher and accommodating more residents than before designers will have to develop new concepts and strategies to shift urban social practice into the building and to foster social cohesion and sense of belonging.
The studio will develop designs as both radical and practical templates helping to identify alternative approaches for future high rise living. The participants will conduct individual and joint research and compile relevant knowledge to answer such questions: Can we radically meet the rules? (How) can a residential high-rise be a social incubator? How can we design encounter? Can't we deliberately mis-interpret what 'Built-to-order' means and think of more user-responsive approaches?'
The studio developed individual designs by working along diagrammatic templates, that have been calibrated in the research project 'Urban Residential High-Rise Typology for Social Cohesion and Demographic Resilience' by the 'Urban Housing Lab'. Applying them as design tools helped to iterate strategies for a building's responsiveness to complex demographic dynamics and for a high-rise's performance as a social system – with its spatial integrity and interfaces between the domains of the city, the neighbourhood, the individual home and the single individual within.
Spatial Integrity, Linkages of unit cluster / Lee Xin Ting
Spatial Integrity, Linkages of unit cluster / Kerine Kua
Unit ribbon, Adaptation to building footprint / Kerine Kua
Spatial Integrity, Linkages of unit cluster, Unit clusters and interface / Daniel Yong
Models Jonathan Ng / Lee Xin Ting
Section, Spatial Integrity, Unit Cluster / Xie Yu
Standard level, Unit interface / Xie Yu
Models Xie Yu / Daniel Yong
Section, Perspective / Jonathan Ng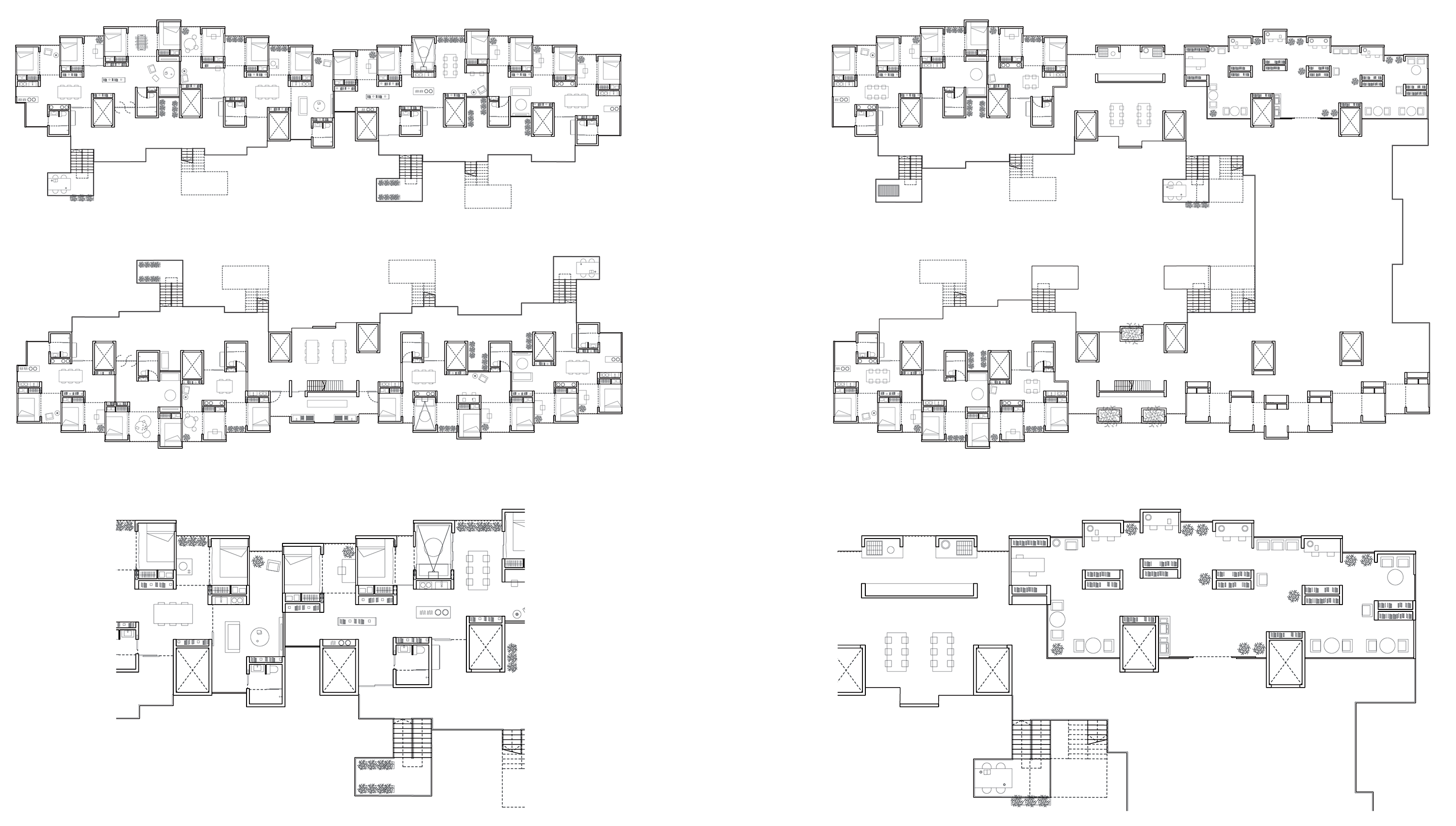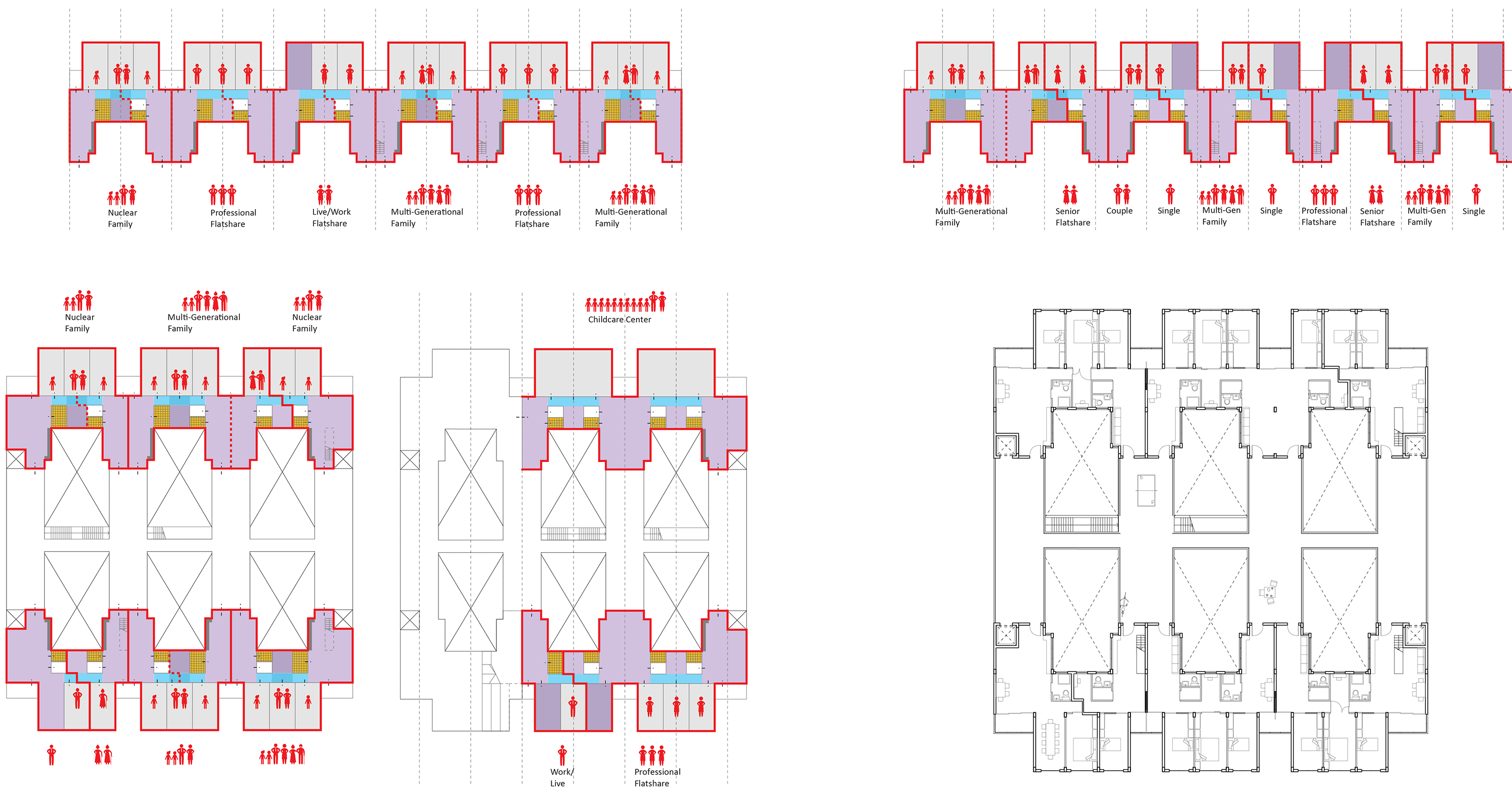 Unit ribbon, Adaptation to building footprint, Standard level / Seah Wen Zhen